M-040E : Italian Crepe Paper Flowers
NSA Course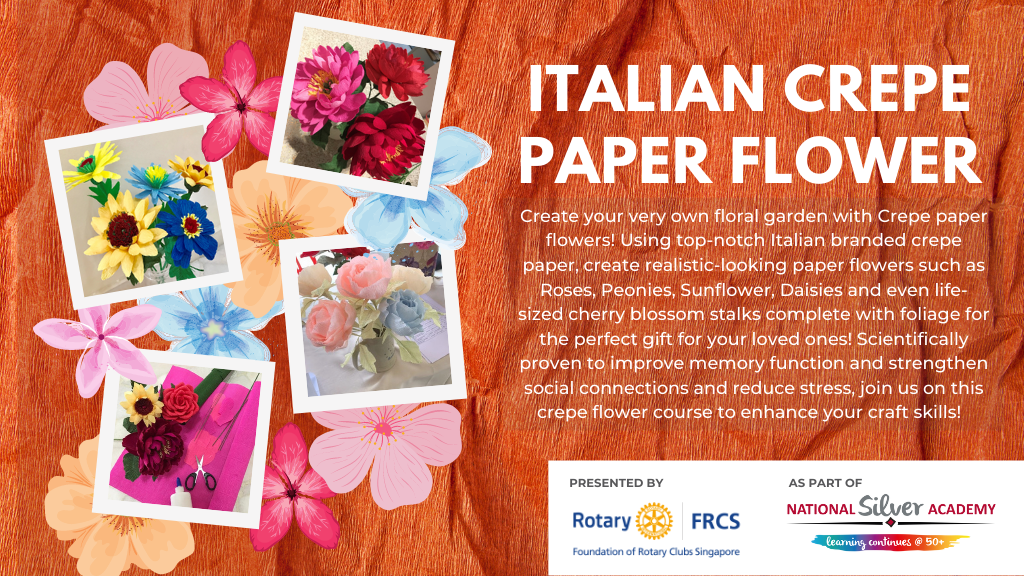 This course aims to teach the Crepe Paper Flowers art technique to develop 'real' flowers, used for homes and ceremonial events.
*Kindly be informed that this course will be conducted online.
Ms Pearl Tang is a Japanese Pastel Nagomi Art (JPNA) Certified Trainer. She has great passion in art and craft creations and its activities. Her interests include crochets, knitting, decoupage, Airdry clay sculpture, Jewellery-making, Crepe paper flowers, Soft-Pastel painting, etc. Pearl is a certified facilitator and trainer by WDA–ACTA (Advanced Certificate Training to Adults). She has over 15 years of experience in training and education. She is currently a part-time teacher, teaching business studies, English and basic computer skills. Pearl is active in conducting art and craft lessons at various Senior Activity Centres (SACs), namely, VWOS, grassroots organisations including ad-hoc community events.