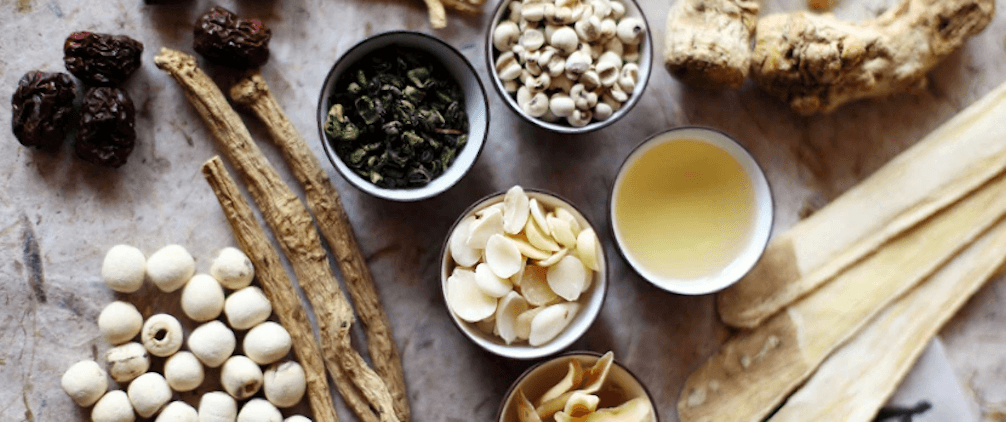 08 Jun 2021

Incorporating Traditional Chinese Medicine into Daily Life

Traditional Chinese Medicine, often known as TCM, consists of various approaches to treating ailments, ranging from mind and body practices, such as acupuncture, to medicine practices, such as consumption of herbal products (Hopp & Shurtleff, 2019). This robust medicinal system has existed for more than 3000 years with foundational texts on Chinese Medicine dating back to 206 BCE during the Han Dynasty. Unlike commonplace western medicine that aims to find a solution to a pain, the idea of 'health' in Chinese Medicine is situated on harmony. The concept of harmony includes both the balance of yin(阴) and yang(阳) as well as the circular movement of 'qi' (气,air or vapour) and 'xue'(血,blood) (2021). Chinese Medicine goes beyond an ailment-free body to focusing on restoring harmony in ensuring a healthy body.
Chinese Medicinal Practices
Traditional Chinese Medicine need not be taken only when ill. Incorporating medicinal knowledge into one's food consumption can help in restoring harmony which plays a major role in preventing one from falling ill. The Traditional Chinese Medicine system categorises all foods into three categories: Cooling, Warming and Neutral food. The category a food is classified under is determined by the body's reaction to the food. For example, watermelons would be classified as a cooling food, leaving your body cold after consuming it. On the other hand, fried food are considered warming foods. The effect of consuming these different types of food is dependent on one's body constitution, which fortunately often have cues that are easy to recognise. For example, one who has excessive heat tend to have a red complexion and a dry mouth (n.d.). Furthermore, consuming the opposite type of food from one's body constitution can also help reduce the excess that one has. If one has excess heat, then one can recalibrate the ratio of cooling and warming food one consumes to have more cooling foods. Traditional Chinese Medicine not only utilizes such nutritional knowledge for healing but can also include using herbs for treatment. However it is important to note that the examples mentioned here only scratch the surface of a deeper and more complex literature of traditional Chinese medicine. One should visit a professional doctor for a formal diagnosis and recommended treatment.


Mind and Body Practices
Traditional Chinese Medicine can also inform mind and body practices. These includes acupuncture, massage therapy(推拿), and cupping among many others. Acupuncture is the practice of inserting needles into skin and muscles stimulating acupuncture points situated all over one's body. This is done with the intention of restoring the flow of 'qi' through one's body, which can help not only with a local pain in the body but also to promote health in mind and body. The Tui Na Massage Therapy also utilises the understanding of acupressure points to stimulate or release various muscles in the body. Unlike acupuncture, such practices often are delivered to treat local chronic pain or other musculoskeletal conditions. Another practice includes Cupping which uses the vacuum created from removing the oxygen in a cup with heat to release the toxins trapped in one's body. This is typically performed on areas such as the back. Cupping leaves red marks on one's body after treatment that will slowly heal within the weeks after the treatment. The iconic red cupping marks have been a telltale sign of increasing adoption of TCM practices all over the world, with Olympic athletes strutting into the competition with these red marks on their backs.

Traditional Chinese Medicine can be an alternative or complement to your current treatment plans, but most importantly a long-term companion in ensuring your health with its holistic approach. The Foundation of Rotary Clubs (Singapore) offers workshops on Understanding Chinese Herbs. The lesson gives you a glimpse into traditional Chinese medicine, from useful tips such as TCM-informed recipes that you can easily make at home, to deepened understanding about Chinese herbs to make informed purchases, and learning about acupressure points to massage for different bodily pains. These takeaways have been readily incorporated by participants into their daily lives to improve the health of themselves and their families. The course has received consistently good feedback from participants of past installations. You may sign up for the course at frcs.sg.
References
Chinese Medicine
. American College of Traditional Chinese Medicine. (2021, April 16). https://www.actcm.edu/chinese-medicine.
Hopp, D. C., & Shurtleff, D. (2019, April).
Traditional Chinese Medicine: What You Need To Know
. National Center for Complementary and Integrative Health. https://www.nccih.nih.gov/health/traditional-chinese-medicine-what-you-need-to-know.
TCM Basics – Food. (n.d.). https://www.euyansang.com.sg/en/tcm-basics-%E2%80%93-food/eystcmoverview4.html.
Bello, A. (2016) Michael Phelps in 2016 Rio Olympics [Online Image] Men's Health. https://www.menshealth.com/health/a19519212/what-is-cupping-therapy/